Originally written on 17th July 2019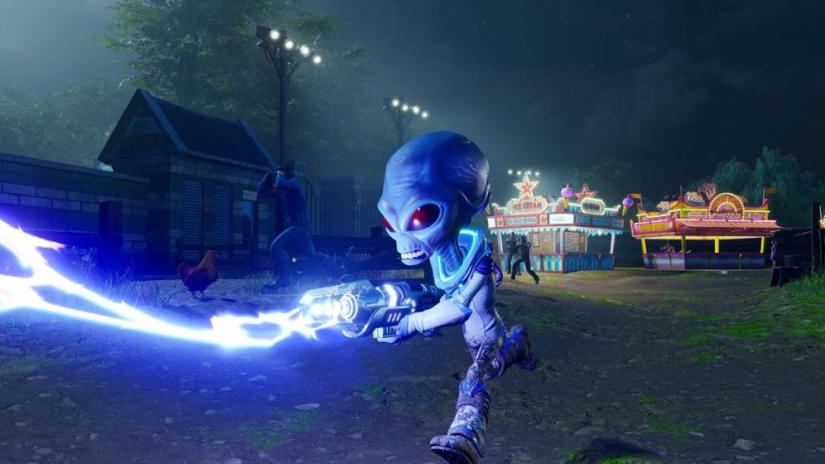 If you're one of the brave few who is planning to take on the might of the American army in storming Area 51, then you'll probably need to be prepared if you want to successfully take on the US armed forces. Thankfully, gaming is a great simulation tool, so you can hone your skills to storm the base, steal the tech and rescue the aliens without having to move from your sofa. So which ones will best prepare you for your mission? Thankfully, we have you covered.
Get Ready for War
Probably the first thing you need to think about is how to actually get into the base, and you'll probably be met with hostile forces stopping you from entering. Probably the most obvious choice to play is Call of Duty: Black Ops 4. The 2018 title (available on PS4, Xbox One and PC) will teach you how to handle futuristic cutting-edge technology, probably so futuristic that you won't actually be able to get your hands on it until you successfully storm Area 51 and find the hidden stash of alien weaponry.
If you want to go old-school however (then good luck to you as you will get decimated), then look no further than the World War II-based Battlefield V. Once you get your hands on a first person shooter you'll soon learn the ins and outs of what is required. And with discounts from Promo Codes For, getting your hands on the latest titles won't have to cost the Earth, with discount codes from retailers such as 365 Games, Argos and Zavvi (unless the aliens take over I suppose).
Know Your Alien History
To better know the present, you have to look at history. How often is it that people just don't look into these things, only repeating mistakes of the past? Unfortunately, it's all too common. However, you can learn all about the history of the aliens – some of whom are still residing in Area 51 – by playing the right games.
Coming out in 2020 is the reboot to the popular Destroy All Humans series, which accurately tells the story of how the aliens first came to be on the planet in the late 1950s. When you think about it, it does all add up. The US were losing to the Soviets in the space race, so they utilised the alien technology to eventually beat them to the moon.
The original two games in the series are currently available in the PlayStation Store, and the first is available to play on Xbox One through the Microsoft Store. Or alternatively, you could just wait for the reboot to arrive next year, and with the trailer looking this good, you'll be mad not think it's a worthwhile purchase. Or maybe you're just being mind controlled by the powers that be.
Teaming up with Strange Lifeforms
The aliens you eventually counter could come in any shape or form, you never know. So you would have to be prepared to expect the unexpected, and ultimately, if you want to escape the base, you'll need the help of your new alien friends to do so. Therefore, it is probably beneficial that you immerse yourself in games where cooperation with other creatures is paramount.
Thankfully, there has been a game series that's been around for years that's been preparing us for just that. Pokémon has existed in many forms: an anime series, a collectable card game, an app, a big-budget movie and of course, many games. The latest in the line of Pokémon titles will be Pokémon Sword and Shield, which is set for a November release this year.
Currently out for you to flex your Pokémon muscles, however, are 'Let's Go! Pikachu' and 'Let's Go! Eevee', which include more than 150 different Pokémon creatures, meaning if you manage to catch them all then you'll have the experience in befriending different beings and persuading them to do your bidding.
Making Your Escape
If you don't escape Area 51 successfully, then it's likely you won't have a happy ending, and your alien adventure will be over before it's begun. However, thankfully, there are many games on the market where you can hone your driving skills, making an evasion of the US forces all the more likely. One game that has been out for a few years, but is great for testing out how you can outrun the police and military, is Grand Theft Auto V. The GTA series is full of morally reprehensible things, but learning how to get away from the cops will be very useful if you decide to visit Area 51.
Alternately, if you think the journey will be pretty bumpy and there'll be a lot of smashing and crashing, then look no further than Crash Team Racing: Nitro Fueled. The latest title in the popular Crash Bandicoot series was rated 9/10 on Game Reactor, and is a good game to practise with if the journey home from the military base is more hectic than expected.
So hopefully now you'll feel more prepared than ever to take on the task of storming Area 51. However, if you now realise that it probably isn't the cleverest of ideas (or you just want to spend your day lazing about instead), then you can't go too wrong with a harmless sporting game like F1 2019 or Cricket 19.